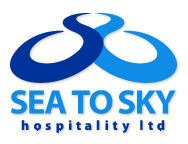 We've just finished work on the corporate ID and colour scheme for Sea to Sky, a hospitality and entertainment company located here in Vancouver.
Sea to Sky's projects include a wide variety of venues located throughout Vancouver and Whistler, including Vancouver's Stone Temple Nightclub, Tonic Nightclub, Aubar Nightclub, The Ocean Club in West Vancouver, as well as Whistler's Savage Beagle, Garfinkel's and the brand new Mountain Club.
The existing treatment is very straightforward but will be embellished as we apply the mark to a broad variety of media.