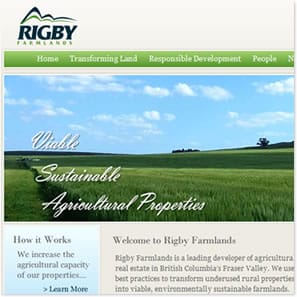 We've just finished up the design and development of a new website for Rigby Farmlands.
Rigby Farmlands is a leading developer of agricultural real estate in British Columbia's Fraser Valley. Using best practices, they transform underused rural properties into viable, environmentally sustainable farmlands.
This website utilizes the very latest version of our News Posting system, which allows the client to easily manage the news items displayed on their site, through an intuitive and powerful web based interface.
Visit their website at RigbyFarmlands.com, then get in touch with us to find out more about our design and website development services!